Level: all
Per class: 75 min
Duration: 14 classes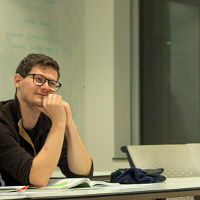 You don't have time to enroll in a group course due to your work? Or you are shy in a group to speak?
Private tuition is the solution
Your schedule is flexible so you can follow all classes and miss nothing and you have the full attention of the teacher.
Content
All courses are also possible as private lessons for all levels.
A lot of attention is spent on: speak actively yourself, pronunciation and enlarging your vocabulary. Attention for grammar takes place in a natural way: by speaking and writing you'll learn and discover the Dutch grammar. But there is also explicit focus on grammar during the lessons. Self-study is necessary: the lessons are focused on a natural conversation about a whole variety of subjects from Dutch society and daily life.
Also special courses are possible like enhancing your speaking abilities, your writing or bring your level on almost academic level with the right vocabulary to go with it.
Levels
CEF
Study workload
3-6 hours per week
Lessons
Once a week or twice a week. each lesson lasts 75 minutes and has a test afterwards or assigments.
Lessons can take place either during worktime or in the evenings.
Location
The course will take place online or at my home in Rotterdam.
Material
Divers
Costs
Please select your situation:
If you have to pay for your classes yourself, a special rate applies.
This rate applies only for private individuals and is € 74,00 per class (75 minutes). For evening classes (17:00 – 19:00) the rate is € 79,00.
Payment can be made for the whole course or in two installments.
If your company is paying for the course, the in-company rate applies. This rate is mentioned for every course on my website.
Payment should be made before the course starts by invoice.